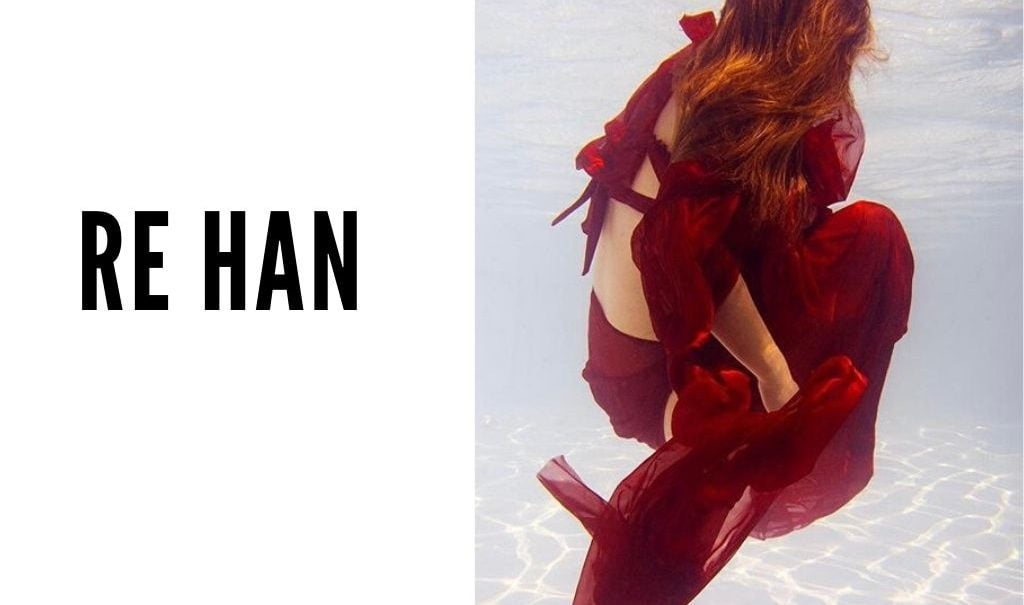 Très heureuse, de vous partager ma découverte du mois de mars ! Sorry d'avance pour ceux qui ne comprendront pas, je tenais à garder la VO, tant pour toute son authenticité, que pour saisir l'inspiration, que m'apporte cette personne. C'est une rencontre bien, enrichissante, belle, et impressionnante. Je vous présente cette artiste talentueuse, et polyvalente, je vous laisse la découvrir à travers, notre interview "Talk Re Han" !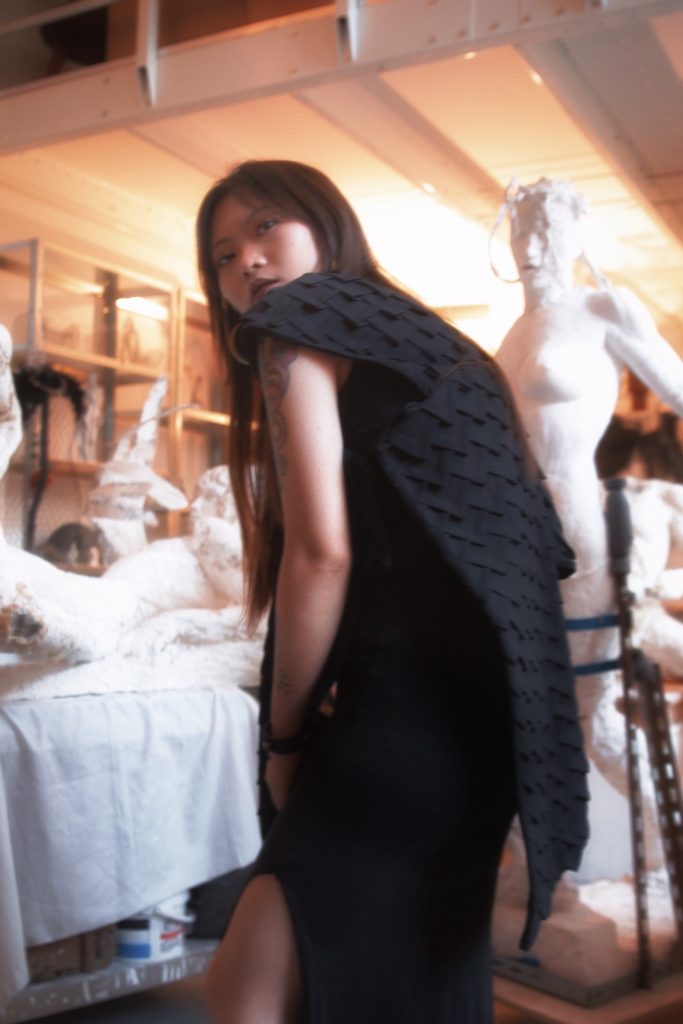 Can you introduce yourself, in a few lines?
I am Re HAN, originally from Shanghai, Paris based fashion stylist and womenswear designer.
I am also someone who held a bachelor's degree in English Literature, working for the art gallery and museum. Now a fashion worker in Paris.
If you had to describe yourself in 3 words, what would they be?
Old-school romantic pragmatist
What is your style ?
My style is all about female self-esteem and strength.
What are you doing now ?
I am now arranging creative fashion photoshoots, doing styling works at the same time of course. I also paint when I feel low, it's more like a fine art thing.
Can you tell me about your universe and your passions?
I struggled a lot with self-identity and extreme mood swings, I guess it perfectly explained why my style is all about female self-esteem and strength. It's the passion and universe. And sharing a positive vibe, love, and support is the spirit, which I care more than passion.
How it all began ?
I mentioned my struggling with self-identity and extreme mood swings, I guess that's how everything begins.
What are your influences ?
– Western Fine Art History,
-Old Films (by directors like Chantal Akerman),
-Western Philosophy and painters (like Rothko).
It is hard to say what exactly "influenced" me, as my brain automatically processes/develops the influences. When I need technical ideas, it pops up, I don't even know where they are from.
What do you think it takes to stand out?
Ability, Strength, Patience and Social Connection. To be honest, I don't give a damn about "standing out". I prefer "seeing through".
What is your strong point?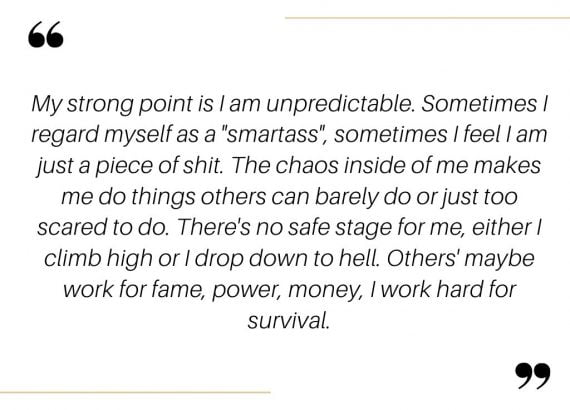 If an opportunity presents itself to you, do you feel ready to seize it?
Even if the opportunity doesn't show up by itself, I will make an opportunity then seize it. I do not believe in luckiness, I think it can build you, also can destroy you, so you have to build everything by your blood and tears.
What artist, public figure or brand inspires you?
Rothko, Chantal Akerman. As for fashion, Alexander Mcqueen (Lee) is who led me into fashion, he was, is and will always be the one.
What are your fears?
I am not really fear of anything, if I have to say one, I was afraid to hurt the one I love for things which I can not control, literally scare-to-death type of "afraid". Fortunately, I lost "the one" already, so I got nothing to be afraid.
What wishes do you have for the future?
I wish I can keep moving forward, at the same time, sharing good vibes with my people, especailly with girls. Love and peace. (Told you I am a old-school romanticist)
What would be "the" collaboration of which you dream?
I care about Honesty, Loyalty, Hard work and Creative Talent. And see what we can create together as a team. Last but not least, everyone being 100% professional during work.
What can you recommend to others who also want to get started in this area?
The recommends are:
– Old keys can not open new doors.
– Nothing is impossible in fashion world.
– If you want it, keep moving forward.
For to closed this " Talk Re Han", what is the last thing you posted on your Instagram account?
An artistic black and white photo
Un prénom aussi orignal, que sa personnalité et facile à garder en mémoire. On lui souhaite que d'aller très loin, et de faire partis des grands stylistes qui nous habillerons demain.
Pour voir et soutenir son travail, c'est en bas que ça se passe !